How to hike the Menalon Trail
In November of 2019, my girlfriend and I walked the Menalon trail in Greece. This is a five-day trail that visits nine picturesque historic villages and some stunning scenery in central Peloponnese. We had a fantastic time.
I love multiday trekking. In the past, I've done the Salkantay trek in Peru and the Portuguese Camino along with a multitude of shorter trips. It's my absolute favorite way to travel. We chose Greece because as an intercontinental couple (she lives in India), flights to Athens were the cheapest combined tickets.
While planning the trip, we couldn't find a lot of information about the trail and had to figure it out as we went. Given how beautiful this trek was and how few people we encountered, I decided to write a how-to guide to make it easier for others.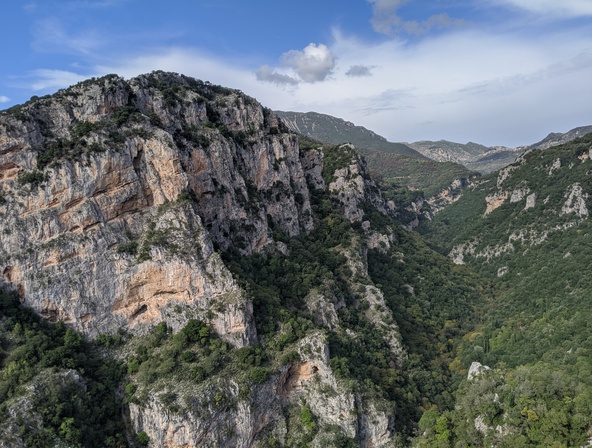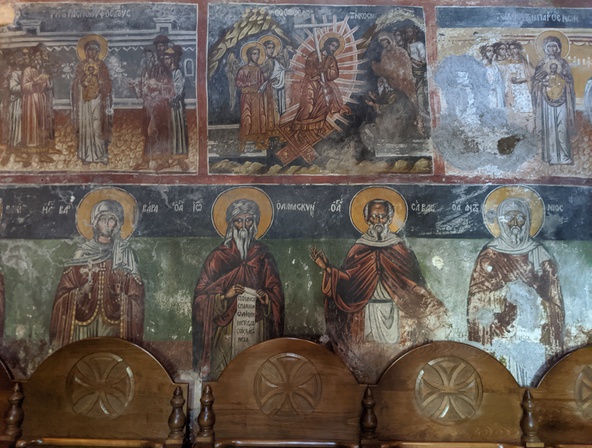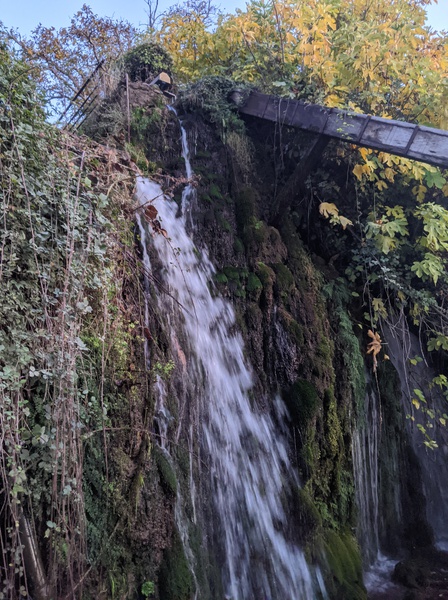 What made this trail so great?
The Peloponnesian Peninsula is most commonly known for the Ancient Spartans who long ago battled the Athenians for dominance over the Greek world. This hike is through the central "Menalon" mountain range. The villages along the way are uniquely beautiful hillside towns complete with monasteries, watermills, and fantastic small restaurants. But the real reason to go is for the fantastic scenery and friendly people.
The stats
75.2 km
Eight "sections"
Nine villages
Completed in four days
The trail
The majority of the trail is dirt with some cobblestone and the occasional road.
You need to be surprisingly fit to do this trek. Despite most of it being newly constructed, modern trail building techniques like switchbacks were not utilized and the trail has a multitude of steep inclines.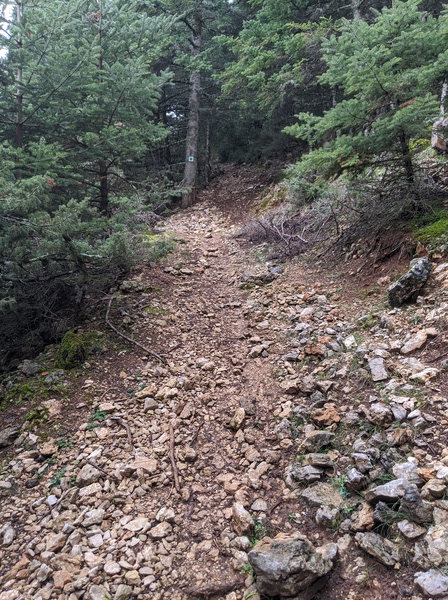 This may have been a forty degree incline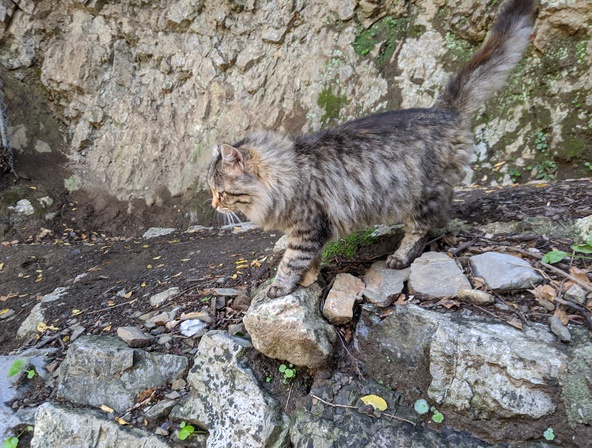 Trail cat. It's unclear whether it was wild, feral, or a monk's pet
What do you need to bring?
This is a village-to-village trek so you don't need a lot of standard backpacking gear like sleeping bags, tents, or stoves. Here is a list to get you started:
Good hiking shoes. For some sections, boots might be nice but we did it with shoes.
Backpack
Clean clothes
Rain jacket and pants
Water (3 liters per person should be more than enough. We took 2)
Snacks
Lunch on most days
GPS or just your phone with a GPS app
Map. These are available in shops along the way or online
When to hike
Summer is the high season and winter is the low season. We hiked during November which had its advantages and disadvantages. The advantages were the changing leaves, the lack of crowds, and the almost perfect temperatures. The biggest disadvantage was that many hotels and restaurants were closed. Every town we went to though had at least one of each open so it wasn't that bad. Also worth noting — it was a bit overcast and we did have one day of rain.
For any other time of year, here is the weather information for Vytina, the largest village. With an average high of 31℃ in July and an average low of 15℃ in February, you should not expect much extreme weather although we were told that it does occasionally snow.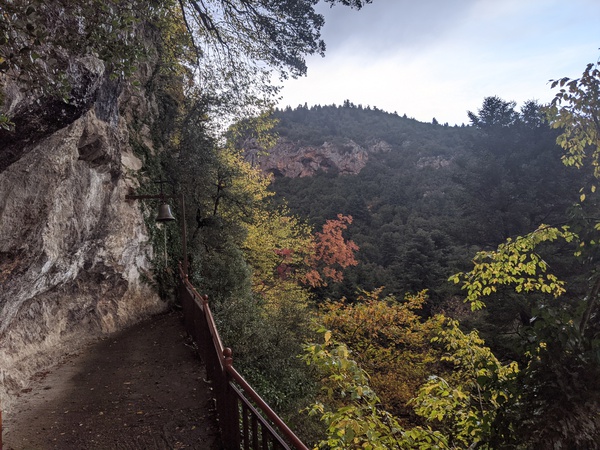 Changing leaves at a monastery
Getting there
The Greek bus service, KTEL, is a confusing mess. The service is divided into 62 regional sections with their own individual websites. Worse, there is no tool that will route you between regions. To add to the difficulty, the Greek alphabet is different from our (Latin) alphabet. For many towns, this means there are different translations of the name (e.g. Λαγκάδια, where the bus stops, can be written Lagadia or Langadia). You might want to avoid even trying to make plans from what is available online. Instead, it is almost always easier to talk with someone from the bus station.
Happily, it turned out that we only needed to take two different buses and there wasn't even a long wait between services. We started from the Kifissos bus terminal in Athens and went direct on the KTEL Kifissos to Tripoli. After a short wait, we then boarded a bus (I think towards Pýrgos) and got off at Lagadia where we stayed overnight. Lagadia is a small town so be careful to not miss your stop! From Lagadia, which is the end of the trail, we then took a taxi to Stemnitsa where the trail starts. Someone from your hotel should be able to help you hire a taxi. Don't be alarmed if it is just someone's cousin in his rusty 1980s sedan but do be sure to negotiate before you get in. I think we paid 25 Euros which might have been too much.
Apparently, there is also a bus that goes directly from Tripoli to Stemnitsa on Monday, Thursday, and Friday.
After we finished the trek, getting back was as easy as hopping on the only bus going through Lagadia back to Tripoli. The people in Lagadia should be able to direct you to that bus stop.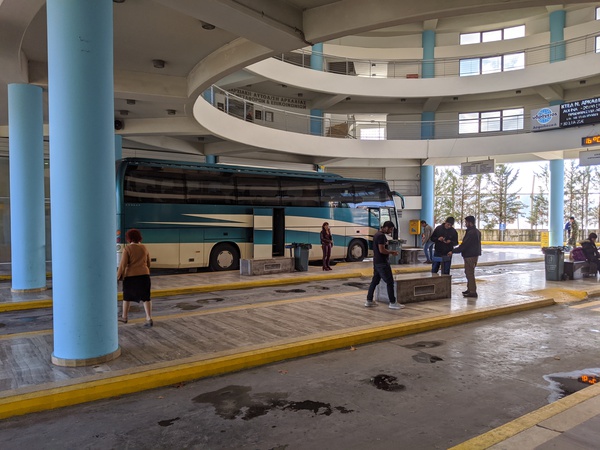 Tripoli bus stop
The people
Almost everyone we encountered was friendly and helpful. English was common though not universal. Of course, as you might find in any country, we encountered difficult people. The ratio was about 90:10 friendly to difficult but your mileage may vary. Worth noting, Greeks tend to be very proud of their country and this can sometimes come out in strong nationalism. Try not to discuss the European Union if you want to avoid impassioned opinions.
Navigating the trail
This is the section we wish we had before starting because it was not clear to us at first and we got lost a few times.
The Menalon trail is divided into three sections. Red, yellow, and green. Red is the start and green is the end. All signs on that section are colored accordingly.
The signs are bent in the direction you need to go. If the sign is not bent, that means continue straight.
There are sometimes colored dots on the ground. Look out for these.
Occasionally, the signs and dots contradict each other. When in doubt, ask a local.

Trail signs directing you to go left, straight, and right.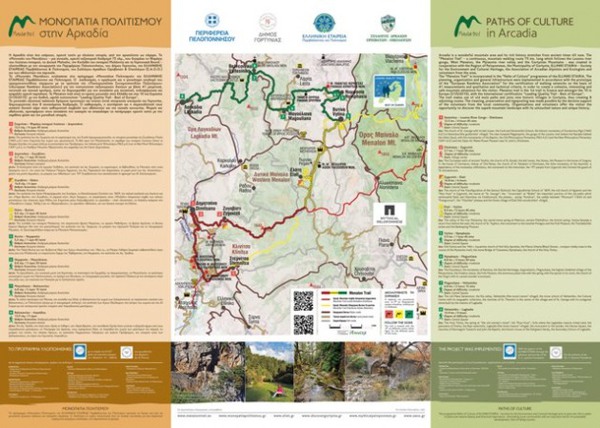 Most towns have these large maps in them.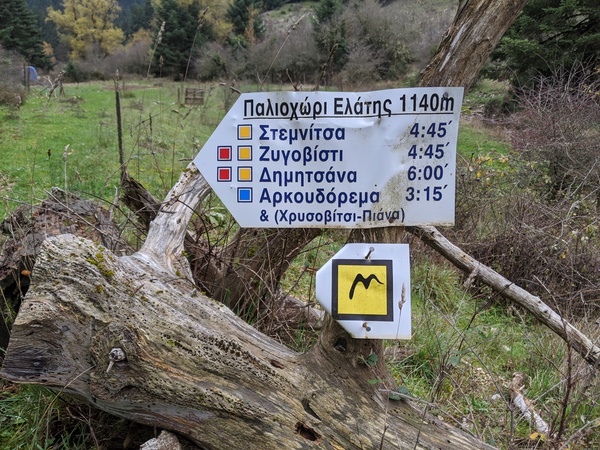 A few times, signs were only in Greek. Know your Greek alphabet! It's actually not that hard.
Accomodations
Most villages had hotels. Some also had Airbnbs. Some villages were just a cluster of houses with no services. Be sure to either book online or call ahead before arriving and always know where you are going to stay before starting. We booked our hotels a few weeks in advance. These are small villages and if every hotel in a village is either full or closed, you might find yourself unexpectedly sleeping outside.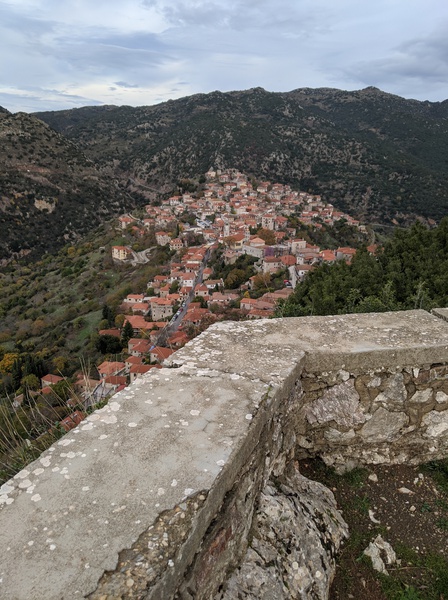 Dimitsana
So should you hike the Menalon trail?
I think you should. It was an amazing trail and we had a great time.